7 days of Fun in Alexandria - mermaid of the Mediterranean
Through a history of more than 2300 years, Alexandria has played an important role in promoting art, culture and science to the world. Since its establishment in 331 BCE, Alexandria has been a symbol of beauty as it was nicknamed by Egyptians "Mermaid of the Mediterranean". Alexandria was named after Alexander the Great who built it to be the capital of Egypt until the Islamic conquest in 642 A.D.
Arts on a wall in Alexandria
Photo taken in Azarita
A view of one of Alexandria beaches with white sand and turquoise blue water.
Alexandria was built by Alexander the Great in 331 BCE and was named after him. Dinocrates was the chief architect for the project. Alexandria was intended to supersede Naucratis as a Hellenistic centre in Egypt, and to be the bridge between Greece and the rich Nile Valley. A small Egyptian town, Rhakotis, which has already existed on the Egyptian north Mediterranean shores continued to exist as the Egyptian quarter of the city. A few months after its establishment, Alexander left Egypt for the East and never returned to Alexandria.
Alexandria became the centre of the new commerce between Europe and the Arabian and Indian East, the city grew in less than a generation to be larger than Carthage. In a century, Alexandria had become the largest city in the world and was second only to Rome. It became the main Greek city of Egypt, with an extraordinary mix of Greeks from many cities and backgrounds.
Alexandria was not only a centre of Hellenism but was also home to the largest Jewish community in the world. The Septuagint, a Greek translation of the Hebrew Bible, was produced there. The early Ptolemies kept it in order and fostered the development of its museum into the leading Hellenistic centre of learning (Library of Alexandria) but were careful to maintain the distinction of its population's three largest ethnicities: Greek, Jewish, and Egyptian. From this division arose much of the later turbulence, which began to manifest itself under Ptolemy Philopater who reigned from 221–204 BCE. The reign of Ptolemy VIII Physcon from 144–116 BCE was marked by purges and civil warfare.
Alexandria was captured by Julius Caesar in 47 BCE during a Roman intervention in the domestic civil war between king Ptolemy XIII and his advisors, and queen Cleopatra VII. It was finally captured by Octavian, future emperor Augustus on 1 August 30 BCE.
In CE 115, wide areas of Alexandria were destroyed during the Greek-Jewish civil wars, which gave Hadrian and his architect, Decriannus, an opportunity to rebuild it. In 215 the emperor Caracalla visited the city and, because of some insulting satires that the inhabitants had directed at him, abruptly commanded his troops to put to death all youths capable of bearing arms. On 21 July 365, Alexandria was destroyed by a tsunami (365 Crete earthquake) an event two hundred years later still annually commemorated as "day of horror". In the late 4th century, persecution of pagans by newly Christian Romans had reached new levels of intensity. In 391, the Patriarch Theophilus destroyed all pagan temples in Alexandria under orders from Emperor Theodosius I. The Brucheum and Jewish quarters were desolate in the 5th century. On the mainland, life seemed to have centered in the vicinity of the Serapeum and Caesareum, both which became Christian churches. The Pharos and Heptastadium quarters, however, remained populous and were left intact.
In 619, Alexandria fell to the Sassanid Persians. The Byzantine Emperor Heraclius recovered it in 629. In 641 the Arabs under the general Amr ibn al-As captured it after a siege that lasted fourteen months. Alexandria once was the capital of Egypt, was then replaced by Al Fostat (currently part of old Cairo) which was founded by Amr in a strategic place on the Nile river shores.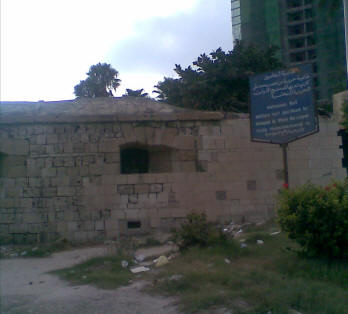 Alexandria figured prominently in the military operations of Napoleon's expedition to Egypt in 1798. French troops stormed the town on 2 July 1798, and it remained in their hands until the arrival of a British expedition in 1801. The British won a considerable victory over the French at the Battle of Alexandria on 21 March 1801, following which they besieged the city, which fell to them on 2 September 1801. Mohammed Ali, the Ottoman Governor of Egypt, began rebuilding and redevelopment around 1810, and by 1850, Alexandria had returned to something akin to its former glory. In July 1882 the city was occupied by the British forces who defeated the Egyptian army lead by Ahmed Oraby who surrendered after a fierce battle in El Tal El Kebeer, in El Sharkeya governorate.
Today Alexandria is the second largest city in Egypt with a population of 4 million people and an area of 2679 sq. km. The city has many tourists' tractions including the following:
Library of Alexandria
Citadel of Qayetbay
Al Montazah Palace
Greco-Roman museum
National museum of Alexandria
Royal jewelries museum
Roman theatre
Kom el Shoqafa tombs
Statue by the famous Egyptian sculpter Mahmoud Khalil in El Shalalat public garden

Street in Alexandria
Photo taken in President Mohamed Naguib street

A Mosque in Alexandria
The shores of Alexandria on the Mediterranean extends to more than 40 km conforming long sandy beaches attracting thousands of local tourists from around Egypt in summer due to the mild weather of the city most of the year.
Beaches stretch along the sea coast of Alexandria for more than 40 km and provide a haven for local tourists or residents looking for an escape from the hot summer weather. If you stay at a hotel that have a private beach then you will enjoy the water, sand and sun and you will have all the facilities at the beach but if your hotel does not have a private beach then you can go to other beaches. Beaches in Alexandria are divided into three kinds:
Free public beaches with no or few facilities. Be prepared with all your requirement before you go to a free beach including an umbrella and chairs if you can although you might find a responsible person for renting these.
Paid to enter beaches: You pay for a ticket that includes an umbrella, a table and chairs. The admission fees are as follows (depending of the beach, prices are in Egyptian pound which equals approximately US$ 0.18):

L.E 2-3 / person
L.E 4-5 / umbrella
L.E 2-3 / chair
L.E 2 / table
There are some facilities on the beach like a shower or toilet. You can also order food, drinks, ice cream but you will pay for these.

Private beaches: These belong to a community in some parts of Alexandria like Agamy, Montazah or Maamoura but you can pay an admission fee and get a ticket for around L.E 10 ($1.8). You can either bring your own beach requirements or rent them at the beach.
The weather in Alexandria follows almost the same pattern of the Mediterranean north coast of African cities which is characterized by its rainy warmth in Winter and hot temperature that could reach 30°C in Summer. Humidity is also high in Summer which gives a feeling of hotter weather. People is Alexandria have the privilege of having long sandy beaches along most parts of the Mediterranean sea coast. These beaches are what makes Alexandria a summer escape for most Egyptians living in Cairo or other much hotter parts of Egypt.
Average temperature in Alexandria
Month

Jan

Feb

Mar

Apr

May

Jun

Jul

Aug

Sep

Oct

Nov

Dec

Year

Average high °C (°F)

18.4
(65.1)
19.3
(66.7)
20.9
(69.6)
24.0
(75.2)
26.5
(79.7)
28.6
(83.5)
29.7
(85.5)
30.4
(86.7)
29.6
(85.3)
27.6
(81.7)
24.1
(75.4)
20.1
(68.2)
24.9
(76.8)

Daily mean °C (°F)

13.8
(56.8)
14.3
(57.7)
15.9
(60.6)
18.7
(65.7)
21.6
(70.9)
24.5
(76.1)
26.3
(79.3)
26.8
(80.2)
25.5
(77.9)
22.7
(72.9)
19.2
(66.6)
15.4
(59.7)
20.4
(68.7)

Average low °C (°F)

9.1
(48.4)
9.3
(48.7)
10.8
(51.4)
13.4
(56.1)
16.6
(61.9)
20.3
(68.5)
22.8
(73)
23.1
(73.6)
21.3
(70.3)
17.8
(64)
14.3
(57.7)
10.6
(51.1)
15.8
(60.4)
We have prepared a special page for holiday costs in Egypt at:
Quick links: