Sharm El Sheikh travel guide, cheap destination for 7 days of fun
Sharm El Sheikh is a well know resort in the south of Sinai in Egypt located at the southern tip of the Sinai peninsula on the coast of the Red sea. Sharm El Sheikh is the preferred tourist destination of Italians and German tourists among many other nationalities that visit Egypt. Sharm El Sheikh has been awarded the city of peace in 2002 by UNESCO.
If you go to Sharm El Sheikh you will be fascinated by the landscape, long beaches, the desert and the sea. Sharm El Sheikh is a popular destination for divers and snorkelers as it has the most beautiful natural corals, exotic marine plants and rare tropical fish in clear water ideal for scuba diving. Among the tourists attractions of Sharm El Sheikh is its sulphur springs, used as treatment for rheumatic and skin diseases.
Weather in Sharm El Sheikh is quite hot most of the year especially during the months of June to August so we advise you to go there in winter preferably from October to February to enjoy a relatively low temperature. If you prefer a hot sun you can book a cheap holiday in summer.
The most popular area in Sharm El Sheikh is Na'ama bay where most of the activities are like cafes, discos, shopping malls and the marina. There are other places preferred by tourists to stay in Sharm El Sheikh like El Hadaba (Umm El Sid heights), Sharks bay, Nabq bay and Ras Nasrani. Hotels in Sharm El Sheikh have all the modern facilities to enjoy a great holiday including Internet access, faxing and copying, tennis courts and fitness / Gymnasiums among other facilities.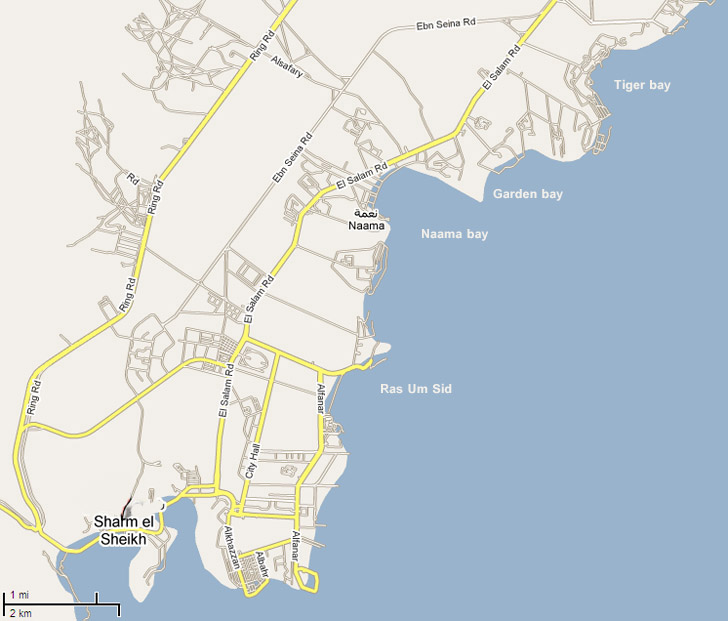 Sharm El Sheikh map showing main roads and bays
Tourists attractions in Sharm El Sheikh:
Naama bay
The center of Sharm El Sheikh with most of the activities and night life.

Alf Laila Wa Laila
An Egyptian folk and belly dancing show held every night there. There are also many cafes and shops to buy Egyptian souvenirs from.

Cleo Park
an Aqua park where you can have fun playing all sorts of water games.

Dolphina
Amusement park where a dolphin show is performed every day (except on Sunday) from 3:00PM to 4:00PM

Soho Square
An entertainment area that contains restaurants, bars, shopping outlets, ice rink and other entertainment centers.

Sharm El Sheikh old market
Visit the old town of Sharm and buy all your needs at low prices.

Ras Muhammad National Park
a coral reef exists along the coast of Ras Muhammad which makes a perfect place for divers to enjoy the beauty of nature in the Red sea.

Tiran Island
a beautiful and a preferred destination for excursions. The Tiran island lies in the Aqaba gulf in the Red sea in an area full of coral reefs and rare types of fish and sea creatures ideal for divers and snorkelers.

Diving, snorkeling and water sports
These are the main activities tourists go to Sharm El Sheikh for.