What to do in Egypt during your holiday
Egypt is a rich country in culture. This richness is what makes you enjoy a diversity of activities when you spend a holiday in Egypt. Depending on the region you will visit in Egypt, you can choose the things you will do in your holiday. You will also have to decide what things you like to do when you come to Egypt and thus you can choose which part of the country you will visit.
So If you are interested in history you can visit Luxor or Cairo. Luxor has the majority of Egypt's treasures and Cairo hosts the Pyramids in Giza. If you are looking for some fun and excitement you can enjoy the sun, sand and the desert of Sinai when you go to Sharm El Sheikh. And if you are searching for tranquility and peace of mind, then Aswan in the place for you.
You have all of Egypt to enjoy when you come, you will only have one problem, you cannot see or do all the things you want to do because simply you will be short of time. But don't worry you can visit Egypt several times and every time you will find new things to do and new sights to see.
| | | |
| --- | --- | --- |
| | | |
| Horse carriage in Alexandria | Desert Safari on camels in Sinai | Naama bay area - Sharm el Sheikh |
A short list of things you can do in Egypt to enjoy your holiday
Sightseeing
Egypt has a wealth of monuments and sights to see. No holiday to Egypt is complete without seeing the only remaining one of the seven wonders of the world, the Pyramids and the Sphinx among other great monuments to see. When you visit Cairo you will have the opportunity to see many of the ancient Egyptian discovered items in the Egyptian museum but it's only a fraction of Egypt heritage. a visit to the Egyptian museum will be a starting point in a long journey to Luxor and Aswan where the Egyptian civilization has flourished thousand years ago. Luxor has great temples to see, including the Karnak, Hatshepsut and Luxor temples and Aswan has the temples of Abu Sembel. When you visit Luxor you will also have the opportunity to enter the tomb of king Tutankhamun and see its treasures. Alexandria also has its share of Egypt culture with Greco Roman monuments that dates back to the time when Greeks and Romans ruled Egypt. You will be back in era of the beautiful queen Cleopatra when you visit Alexandria.
Egypt tourist attractions
Cairo tourist attractions:

Pyramids and the Sphinx in the deserts of Giza
Djoser pyramid in Saqqara
Egyptian museum
Cairo Tower (El Gezira tower)
Famous mosques: Sultan Hassan, Amr Ibn El As, Al Azhar, Al Hussein, Muhammad Ali mosque (Qalaa)
Khan El Khalily - old shops of souvenirs

Alexandria tourist sights:

Roman theatre in Kom El Dekka
Kom El Shoqafa
Amoud El Sawary (Sawary column)
Parts of the old wall of Alexandria
The sinking treasures of Alexandria
Qayetbay Citadel
Greco-Roman museum

Luxor tourist attractions:

Karnak temple
Luxor temple
Hatshepsut temple (El Deir El Bahary)
Tomb of Tutankhamun
Kings valley
Queens valley

Aswan tourist attractions:

Temples of Abu Sembel (Ramses II and Hathor)
Philae temples
The unfinished obelisk
The high dam
Egypt Adventure holidays
If you like adventure and want to spend an exciting holiday, Egypt offers some of the worlds most amazing activities to enjoy an adventurous vacation. Scuba diving, desert safari, sand surfing and flying in a hot air balloon are some of the things you can enjoy to enjoy a holiday full of fun and excitement in Egypt.
Hot air Balloon flight over Luxor
Fly over the ancient Luxor temples and the valley of kings and queens on the Nile west bank and see the most famous monuments in unparalleled adventure in a hot air balloon for 45 minutes. Experience a fabulous feeling and enjoy the fascinating scenery over Thebes.
Things to do in Sharm El Sheikh:
Scuba Diving
The Red sea is a unique place with a marvelous Coral Reef and fabulous underwater scenery, wonderful fish and sea creatures that you will never see elsewhere. If you would like to go scuba diving the Red Sea has many diving spots to explore and there are many diving centers offering PADI courses taught by professional certified divers trainers in Sharm El Sheikh, Dahab, Hurghada and Safaga among other Egyptian resorts on the Red sea coast. Ras Muhammad is one of the diving spots divers love to explore but there are others.
List of diving spots in the Red sea
Sharm El Sheikh diving sites:

Strait of Tiran - diving spots

Laguna Reef
Woodhouse Reef
Thomas Reef
Gordon Reef
Jackson Reef

Ras Ghamila
Ras Nasrani
Ras Bob
White Knight canyon
Shark's Bay
Far Garden
Fiddle Garden
Middle Garden
Near Garden
Sodfa Sodfa
Tower
Pinky Wall
Amphoras
Turtle Bay
Paradise Paradise
Ras Umm Sid
The Temple
Ras Katy
Ras Mohamed:

Ras Ghazlani
Ras Za'atar
Ras Burg
JackFish Alley
Eel Garden
Shark Observatory
Shark Reef
Yolanda wreck

Straight Of Gubal

Dunraven Wreck
The small crack
Shag Rock (Kingstone Wreck)
Thistlegorm Wreck

Dahab: The Canyon
Snorkeling
If you are not in for diving then you can enjoy snorkeling on the long beaches of Sinai and the Red sea. Sharm El Sheikh is one the wonderful resorts in Egypt to go snorkeling. Naama bay, Sharks bay, Nabaq bay, Tiran island are some of the places to enjoy snorkeling in Sharm El Sheikh with clear water and wonderful water creatures to see.
Desert Safari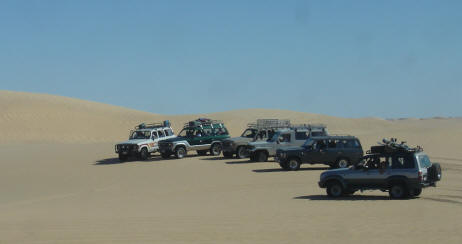 Sinai desert is a unique place to go to if you are looking for adventure and Sharm El Sheikh is one of the most beautiful resorts in the world. You can go on a safari on bikes, cars or camels. Explore the desert of Sinai but beware of the sun, the weather tends to be hot in this part of Egypt so you have to make sure you have a sun protection. You can also go on a night safari to make use of the low temperature at night.
The Western Desert of Egypt is another great place to go on a Safari. The Western desert is famous for its richness of great views and diversity of sites to visit. If you are a professional driver you can register for the Rally of Egypt that's held annually in the Western Desert of Egypt.
Egypt Desert Safari destinations:
The desert of Sinai
Sharm El Sheikh, Dahab and Taba
Egypt Western desert
Bahariya Oasis, Dakhla Oasis, Farafra Oasis, Fayoum Oasis, Kharga Oasis, Siwa Oasis
Shopping for souvenirs
When you come to Egypt you will find many stores that sell souvenirs and maybe in your hotel you will stay in. But the most famous souvenirs market is located in Khan El Khalily in El Hussein area in Cairo where you will find many shops that sell basalt and stone statues and obelisks, papyrus paintings, copper plates, mother of pearl boxes, silver and gold jewelry of ancient Egyptian figurines. Don't forget to buy T-shirts or other clothing made of the well known Egyptian cotton.
You can also enjoy visiting Khan El Khalily without buying any souvenirs as the place is full of Islamic monuments and mosques. After a long walk in the Khan you can sit down at the famous Fishawy cafe and drink tea with mint or smoke shisha and chat with friendly Egyptians.
Egypt gift shop is our partner that is an online shop for souvenirs and hand made gifts made in Egypt which you can buy online and have the items delivered to any country in the world