Cairo international Airport
Location: 22km north east of Cairo, 40km of Giza pyramids.
Geographical Coordinates: Latitude:30° 8' 15'' N, Longitude: 31° 24' 24'' E
Elevation: 116m / 382f
Address: Airport Road, Heliopolis, 11776 Cairo, Egypt.
Tel: +20 2 2655000, 2653413
Cairo international airport history
The current airport was built on the land of the American Bayn Field air-force base which was established in the forties to serve the alliance forces in World war II. It was later managed by the Civil Aviation authority which named it "King Farouk airport".
In 1963 Cairo International airport replaced the old airport located in Heliopolis area with better facilities to have a capacity of 5 million passengers a year.
During the seventies several halls were constructed to add o the passenger capacity of the airport. In the eighties a second terminal was built to serve an additional 3.5 million passengers per year.
A development plan is going underway to modernize the facilities and increase the airport passenger capacity to 22 million. Currently Cairo airport consists of 3 terminals built at the highest standards equipped with the latest technological devices to offer its passengers high quality aviation services.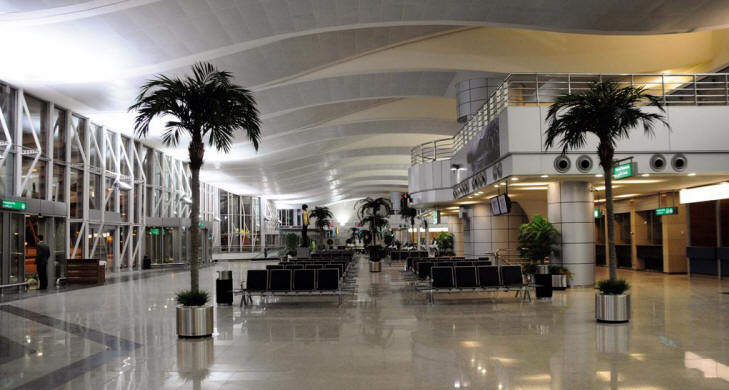 Cairo international airport quick facts:
Runways:
Direction: 05L/23R length = 3,301m, 10,830f
Direction: 05C/23C length = 3,999m, 13,120f
Direction: 05R/23L length = 4,000m, 13,124f
Number pf Terminals: Three
Scheduled Airlines operating in Cairo airport
Aegean Airlines
Aeroflot
Afriqiyah Airways
Air Algérie
Air Berlin
Air France
Air Sinai
Alitalia Rome
Alitalia
Al Masria Universal Airlines
Austrian Airlines
bmi
British Airways
Buraq Air
Continental Airlines Newark
Cyprus Airways
Czech Airlines
Delta Air Lines
EgyptAir
El Al
Emirates
Ethiopian Airlines
Etihad Airways
Gulf Air
Iberia
Iraqi Airways
Jetairfly
Kenya Airways
KLM
Korean Air
Kuwait Airways
Libyan Airlines
Lufthansa
Meridiana
Middle East Airlines
Nasair Asmara
Olympic Air
Oman Air
Qatar Airways
Royal Air
Royal Jordanian
Saudi Arabian Airlines
Singapore Airlines
Sudan Airways
Sun Air
Swiss International Air Lines
Syrian Air
TAROM
Tunis Air
Turkish Airlines
Wataniya Airways
Yemenia
Cargo airlines operating in Cairo airoprt
Air France Cargo
Cargolux
EgyptAir Cargo
Ethiopian Airlines
Lufthansa Cargo
Qatar Airways Cargo
Royal Jordanian Cargo
Trans Mediterranean Airways
Tristar Air
Turkish Airlines Cargo
Quick internal links