Sharm El Sheikh - The Pearl of Sinai
By Mona Khalifa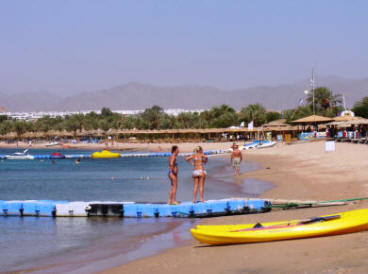 It took me such a long time to decide to sit down and write my memories, views and visions about this unique dazzling place. Have then decided to start my essay with a saying that I read one day in an English book called "Dare me to the desert".
"Here, not for the first time, I fell in love with the landscape…I longed to reach out and stroke the great gaunt flanks of the mountain falling away into bewildering foot-hills and Plains of dazzling sand. Africa and Asia might watch with jealous eyes, I heeded them not."
Sharm El Sheikh is located on the southern coast of the Gulf of Aqaba between Tiran island and Ras Mohammed National Sea Park. Apart from the famous well known Na'ama Bay, Sharm El Sheikh is actually full of many other bays; Sharm El Sheikh Bay, Sharm El Maya bay & Shark Bay.
Near to Sharm El Maya Bay there is another National Sea Park less famous than Ras Mohammed called Ras Um Sid. The area is still considered rare full of marvelous wild Reeves, colored fish from different unknown races and it is considered as a virgin rare area. Na'ama Bay; though still charming but has been turned into a very busy congested area with the restaurants, top luxurious and less luxurious hotels and touristic activities. You may have fun all day long there; enjoying Water sports, Diving & Snorkeling and Shopping at the big malls there & night life in different night clubs.
Also not important if you have a full or half board residency at your booked hotel or just Bed booking in view of the availability of different restaurants for all styles and tastes there. Also a lot of Supermarkets; most well known of them with moderate prices is the Shamandora Supermarket and it is also the eldest there since the days of the Israeli occupation to the area.
Have been going there at least once or twice a year since the year 1983, when there was only one small hotel there called Marina Sharm with very limited room capacities. Used to do camping there which was much more fun and we used to cook our meals since there were no restaurants at that time. So you may consider me one of the eye witnesses over the development of the area.
You can also enjoy the Safary arranged by some hotels in the desert there. Of course I only did it once during my earlier years, now it is my daughters who enjoy this kind of activities I prefer spending my time swimming, snorkeling and staying ashore watching the beautiful clear blue skies during Sunlight and Sunset. Transportation is not at all a problem at Sharm El Sheikh as you may easily find taxis, Microbuses and cars for rental there. As mentioned the area is well oriented and arranged for all kinds of tourists.
The days pass there like a dream and no matter how much time or how many times you will go there you will always long to go once again.
Other Articles by Mona Khalifa:
Related links