Nile river information - The longest river in the world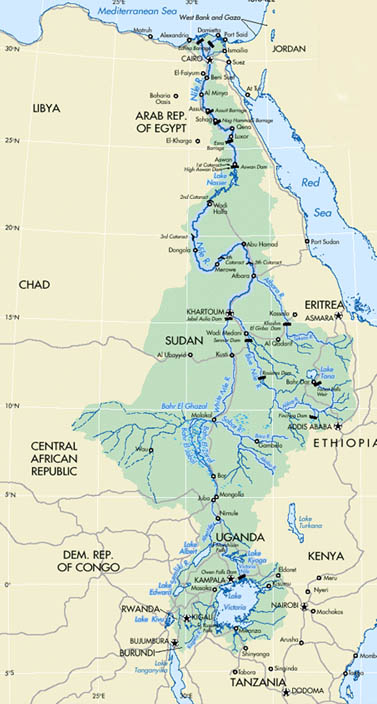 The Nile is the longest river in the world of 6650 km (4132 miles) flows from central Africa to the shores of the Mediterranean in the north of Egypt. Herodotus called Egypt the gift of the Nile as the ancient Egyptian civilization grew alongside the river more than 7000 thousand years. The Nile name originates from the Greek word "Nelios" which means River Valley.
There are two main sources of the Nile, the blue Nile that flows from the Ethiopian Tana lake and the white Nile which source is Victoria lake. The Nile river flows through nine countries Uganda, Sudan, Egypt, Ethiopia, Kenya, Zaire, Tanzanian, Burundi, and Rwanda. All nine countries of the Nile basin have signed a treaty giving each country a fair share of the Nile river water. According to the treaty Egypt the right of veto over any work which might threaten the flow of the river. The Nile Water Agreement of 1929 grants Egypt 55.5 billion cubic meters of water, out of a total of 84 billion cubic meters to cover its requirements of water consumption and development projects.
Dams on the Nile
There are several dams on the Nile river which were built to raise the water level, serve as reservoirs and generate electricity. Major dams on the Nile are:
Sennar Dam (Sudan) built in 1925.
Roseires Dam (Sudan) built in 1966
Aswan High Dam (Egypt) built 1960-1970
Owen Falls Dam (Uganda) completed in 1950
Egypt relies on the Nile river to get its needs of water for irrigation of its crops as agriculture is one the main activities in Egypt and a major source of income. Building of the High dam in Aswan has big impact on the quality of the cultivated land as it prevented the transport of fertile silt carried over the flooding inflow from lake Tana through the blue Nile to the Nile valley in Egypt.
Nile cruise booking
Several cruise ships to choose from to book a Nile cruise tour at good prices.